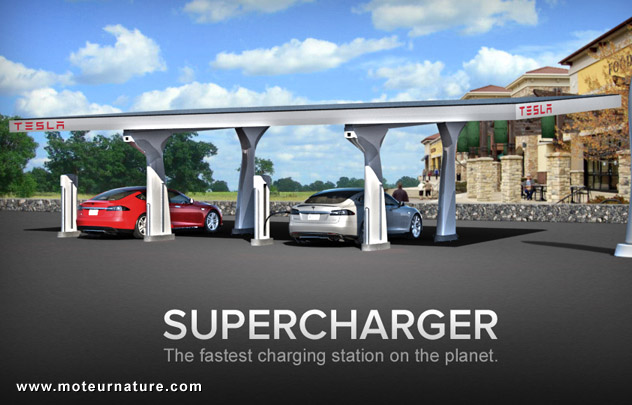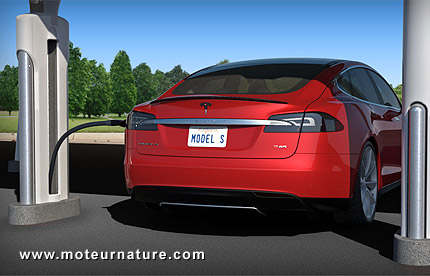 A solar charging station for EVs is a cool idea, though it's not new. GM opened one to recharge some Volt plug-in hybrids in Michigan. Tesla wanted to do it better, and it invented the superfast solar charging station. It puts out a 100 kW current! That's strong enough to charge two thirds of the big battery of a model S in only 30 minutes. Imagine that a Nissan Leaf, if it could accept such a current, would recharge in less than a quarter of an hour. Sadly, it's unrealistic it will ever be. You just need a very large battery to absorb such a current without overheating. Therefore, the superfast charging stations will only be accessible to model S owners, even the roadsters from the same manufacturer would not to be able to plug there. Or maybe at a slower rate, and a adapter would be required since the model S has a proprietary connector.
4 of those superfast charging stations have already opened in California. There will be 2 more in a few days, and the plan is to have 100 all over the continental US. Strangely, Tesla Motors doesn't reveal any characteristics about its "supercharger" stations. All it says is that the energy produced by the solar cells will be higher than the energy used by all the cars charging. Let's try a little math.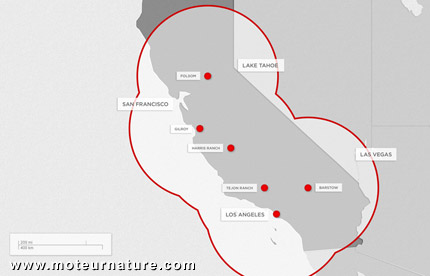 20 cars charging per day with an average charge of 50 kWh (battery capacity of the model S is 85 kWh). At the end of the year, that makes 20x50x365 or 365,000 kWh. This will require hundreds of solar panels, and make for very expensive charging stations. Elon Musk said the budget for 100 stations will be between $20 to 30 millions. That is a rather low estimate in my eyes, which obviously doesn't include property. And don't forget that the cost of a solar charging station in Chicago will be much higher than in Dallas. The big question is who will pay for this investment because Musk said that charging will be free to all model S owners. Forever! It will be possible to drive cross-country without spending a dime. That's what Elon Musk said!
His idea is that the construction and maintenance cost of all charging stations will be entirely supported by Tesla Motors. How can it be possible, you may ask. How come a small company like Tesla Motors afford such a project? Well, it can't. Tesla Motors will have one more time to raise more money to fund its plans. So anyway you look at it, this is crazy. The purpose of a business is normally to make money, but Tesla Motors has been losing money every quarter since it started in 2003. Now, for the first time, the opportunity to become a profitable company was on the horizon with the launch of the model S, but Tesla is choosing one more time its increase its spendings before its revenues. One can seriously doubt Tesla Motors will ever be a profitable company. It doesn't show any sign it wants it. Is this sustainable?