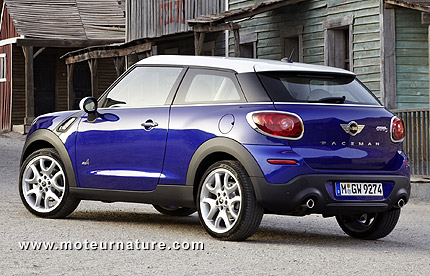 The Mini brand has always been associated with fashion, but in Europe at least, Mini cars are green cars. We've never seen a hybrid Mini but there's no need for it. Mini cars are green because of their small size, and their modern efficient engines. When the Prius II was launched, it had incredible fuel economy for its size, and one of the very few cars that could match it was the diesel Mini. With low weight, the Mini was also much sportier.
The proverb says that some things never change, but the Mini doesn't follow it. The brand will unveil this new Paceman at the Paris motor show, it's the largest Mini ever. The vehicle is 162 inches long, 70 inches wide and 60 inches wide. That's the size of a compact, not of a Mini! Weight is also up considerably, going up to 3120 pounds for the top of line diesel with all-wheel drive. That is not Mini-rated.
With good diesel engines though, fuel economy shall remain acceptable, but the brand will have to sell electrics sometimes to counterbalance the increase in all areas.