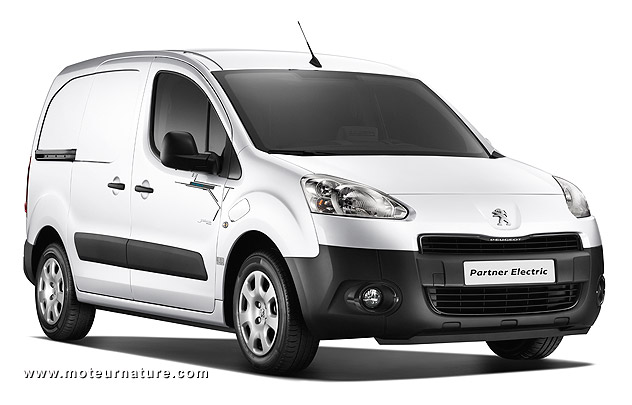 The old generation Citroen Berlingo and its Peugeot twin, the Partner, popular small vans in Europe, were available with an electric drive from Venturi. The Citroen version got famous when it was driven from Shanghai to Paris 2 years ago, then around Africa 3 months ago. It's now the turn of the new generation to receive an electric drive, but this one doesn't come from Venturi.

Peugeot-Citroen has partnered once again with Mitsubishi. The cars will be built in their usual factory (in Spain), alongside the diesel models, with their electric drives shipped from Japan. Those will be close to those of the Mitsubishi i-MiEV. Power will be the same, only torque is slightly up to 148 lb-ft. The big difference is in the battery, which is a 22.5 kWh pack. It's good for 106 miles according to Peugeot, but that seems highly optimistic. Another surprise is the choice of the standard for quick charging.
Considering these are French cars, we would have expected an European charging standard, but the Mitsubishi engineers stick to what they know best: Chademo. If only the European Union had officially chosen a standard for fast charging, we wouldn't have that stupid situation. The electric Peugeot Partner will be able to use the same chargers as the Nissan Leaf, but it will not be able to use the chargers built for the electric Renault cars or the Smart ED.
There's something wrong here…