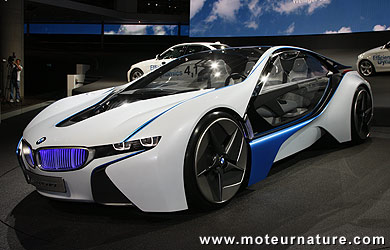 It happens sometimes. A manufacturer shows a concept at a motor show (left picture) and it just looks so good that all the people are asking for a production model. The Alfa Romeo Brera concept from Giugiaro started like that, the BMW Vision EfficientDynamics will follow this example. I certainly won't argue. I've seen the concept twice (in Francfort last year, and in Paris last month), and twice I've been blown away. The Vision EfficientDynamics is one of the greatest concepts I've seen for the last couple of years, because it has 2 strong points besides its fantastic design. First it looks quite practical. I mean it's a reasonably-sized 4-seater with decent trunk space. That doesn't sound like much, but not all concepts are like this. Far from it. Next, its powertrain is as daring as its design.
The acceleration of a BMW M3 with the fuel consumption of the best diesel Mini. High performance with low emissions, that's what dreams are made of! It's the result of a very careful association of an efficient 3-cylinder diesel engine with 2 electric motors. But that may change. The Vision EfficientDynamics is a plug-in hybrid with a 32-mile range in electric mode, it has an expensive battery pack, behind tricky electronic controls and many carbon-fiber parts.
BMW made only one commitment. The production model will be cheaper than a Rolls Royce.
And that may ask for an engine change. Not for Europe, but many people in the Japanese and American market would be critical of such an expensive and high tech car running on diesel. BMW has built a roadworthy version of its concept, and will study both choices, gasoline and diesel… The goal is to have the car production-ready for the Francfort motor show in 2013.