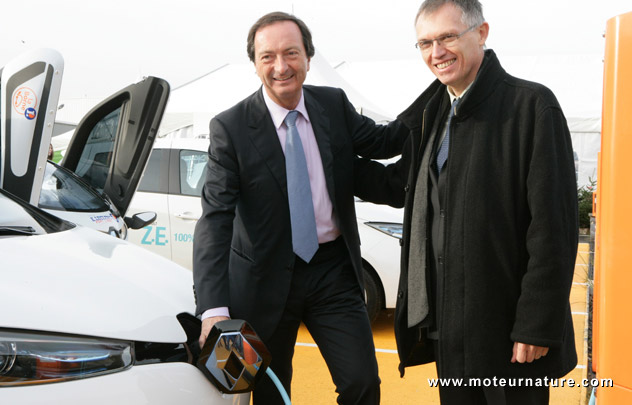 With more than 500 stores, Leclerc is one of the largest retailers in France. The brand is very well known and appreciated among all French people, and one its best asset is that its stores are all over the country. With few charging stations currently in a very small number of cities, the project of charging stations at most Leclerc stores, in 500 different cities is first page news. Actually, that has already started. 20 Leclerc supermarkets already have charging stations on their premises.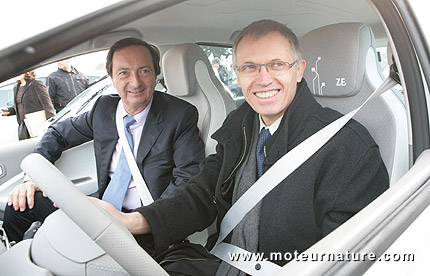 The Pont l'Abbé's hypermarket (in Brittany) is one of them, and it went one step further last month when it bought several Renault Zoe electrics for staff use. A much planned event, with Carlos Tavares (Renault's COO) handing the car's keys to Michel-Edouard Leclerc (Leclerc's CEO, on the left on our pictures), as this was the first public delivery of the little French electric car. Individuals will have to wait till next Spring, and they should then be able to charge at many Leclerc stores, that is if the French government agrees to Michel-Edouard Leclerc's plan. Leclerc would like to install chargers in every single store but he will only do so if the government agrees to his suggestion.
Since 2010, energy providers (gas stations included, and most supermarkets sell gas) in France are required by law to get greener. They can do that by installing solar panels on the roof, adding ceiling insulation, or other things like that from a list supplied by the government. Michel-Edouard Leclerc's idea is that installing charging stations for EVs is green too, and that it should be in the list of acceptable actions on the road to a greener France. It sounds good and reasonable but the government has to validate the idea. If it does, and there's good hope it will, there will be more than 500 charging stations in excellent locations all around the country.