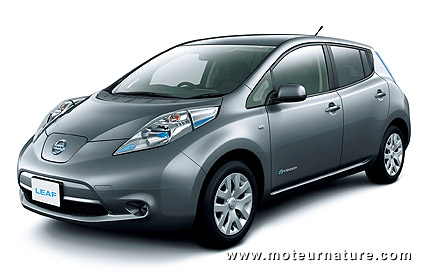 It's still new technology, but this mid-life for the Leaf and in the automotive industry that means time for some updating. It starts in Japan, where Nissan has just introduced the 2013 Leaf. To the average guy, the biggest news is the availability of a black leather interior. But there are also many substantial technical changes. 17′ wheels are now an option, and the suspensions have been revised for better control. More important, most of the drivetrain has been redesigned. There's a new motor, charger and control electronics.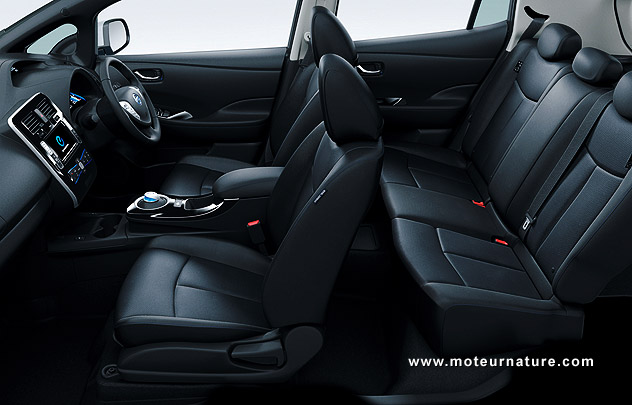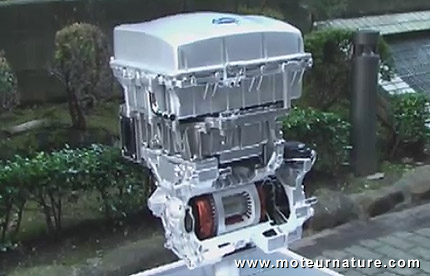 The whole package is now more integrated and more compact, with quite astonishing effects, because mass has been reduced by 80 kg. The car's weight is down to 1440 from 1520 kg (3175 lbs instead of 3351). That's substantial! Lower weight will give more range, and a redesigned regenerative system will also help in that field. Then more compacts technical elements provide another nice bonus: a larger trunk. That was one of the Leaf biggest shortcoming. It has a good back seat, but the trunk was very small, it's now 10% larger.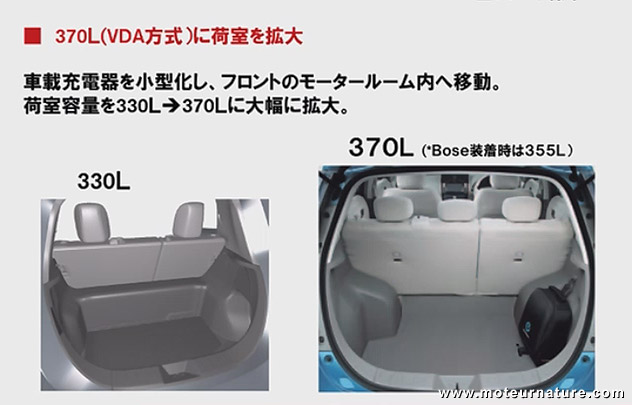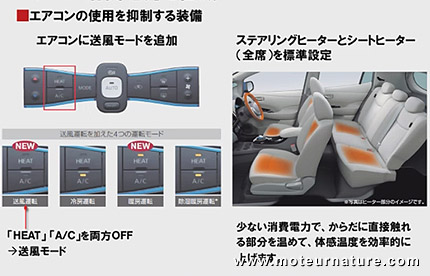 A lot of work went into the heating system which is now a heat pump. It may be the same unit as in the Renault Zoe, and it's much more efficient than the old unit. This has some importance as the Leaf is an EV that's not afraid to drive in the snow. Besides the cabin heating, the steering-wheel and all 4 seats are heated. A new Bose Hi-Fi system is lighter and more energy efficient than the previous system, and the driver will see a modified instrumentation with a clear percentage readout of its battery state of charge. Customers had asked for it!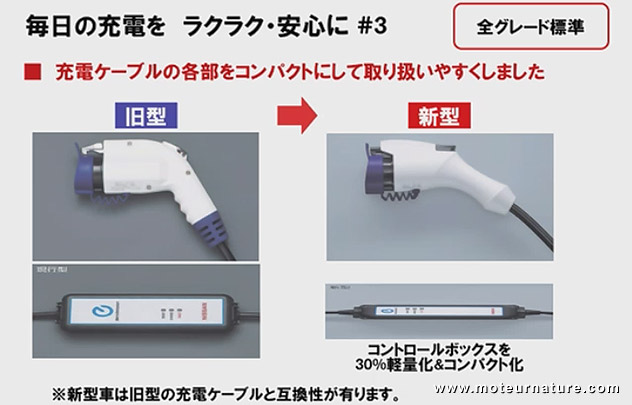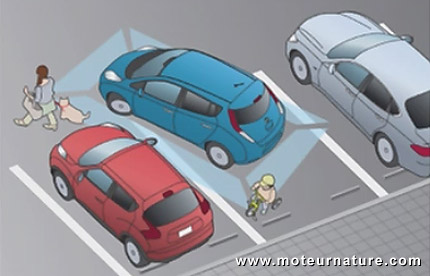 Another novelty is a smaller charging cable nozzle and a nice option is a multi-camera bird's view system for easier parking. Then at least in Japan, the Leaf will now be available with 3 trim levels. The first one is a new base model with reduced equipment level, but it's too early to say if it will be exported. The most important change anyway is the longer range, courtesy of the reduced weight and better regen. On Japanese testing, it goes from from 200 to 228 km. That's 124 to 142 miles, but we drive much faster in Europe or in the US and in my own hands, the Leaf's range was 83 miles. Let's say it's now up to 92 miles. 10% better but progress shall be more important in winter driving with the more efficient heater.
The Nissan Leaf is the world's best selling EV by far, and there's no doubt it will keep that title next year with those improvements.